This rich &  spicy cashew curry, hits flavor levels off the Richter Scale. With layers of spices building up around the buttery cashew nuts,  an earth shattering explosion of taste, & texture will rock your world!
When looking for meat replacements, I'm trying to experiment with different flavors and textures, this curry is a knock out Vegan option .
Ok so there are a lot of ingredients… this one is definitely worth  making to a full sized batch, you can then freeze half and enjoy it all over again at a later date.
It's all in the prep ! Once you have everything prepared then all of the pieces of the recipe puzzle fall together.  I have grouped the different elements into stages to try and keep it logical.
I've used mostly Organic/Fairtrade and where possible locally sourced ingredients. When faced with a choice of organic or Fairtrade, I choose Fairtrade as it also ensures the people involved in the process are treated fairly. Often the farmers classified under the Fairtrade umbrella are adopting Organic farming methods, but can't always fund the Organic certification stamp.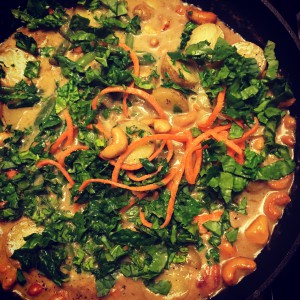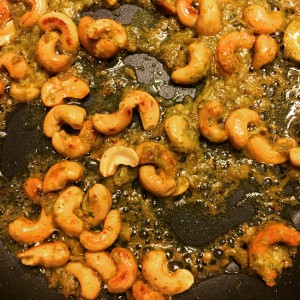 Spicy Potato, Kale & Cashew Curry
Ingredients
The Spicy Curry Paste
1 thumb sized piece of grated ginger
½ Teaspoon fennel seeds
½ Teaspoon coriander seeds
½ Teaspoon black peppercorns
½ Teaspoon ground cloves
½ Teaspoon turmeric
½ Teaspoon cinnamon
6 crushed cardamom pods
2 x cloves of garlic
1 x fresh chili – more if you like it hot!
1 x stalk of lemon grass
1 X bunch of coriander
2 x Table spoons Coconut oil (approx)
150g Organic Cashew nuts
500g Locally sourced new or waxy (organic)potatoes - diced
200g Organic/ local green beans
400g Fairtrade coconut milk
2 tablespoons tamarind paste
1 squeeze of runny honey
2 x juice of limes
150g Kale
Sea salt
150g Fairtrade/Organic Basmati rice
50g toasted sesame seeds.
Instructions
Toast the sesame seeds in a dry frying pan. Set to one side for later
Par boil the potatoes in salted water. Drain, cover and set to one side.
Toast the Fennel & Coriander Seeds in a dry frying pan – being careful not to burn them!
Add to a food processor
Blitz all of the other spices (including the toasted ones) with the ginger, garlic, chili and a dash of lime juice & the coconut oil.
Add half of the coriander. Blitz further.
Add more lime juice if the paste is too thick
Gently fry the paste until the spices start to pop, be careful not to burn!
Once bubbling add the cashew nuts, coat and fry a few minutes further.
Add the Tamarind, honey and coconut milk. Turn down the heat
Heat a pan of water & boil the rice (follow the usual instructions)
Add the (precooked)potatoes & green beans to the pan with the Spicy coconut milk mix and heat for around 6 mins
Squeeze in the lime juice
Add the chopped kale.
Season with salt & pepper.
Heat for another 6 minutes – add some water if the mix is too hot.
Once the rice is ready, drain & dish into bowls
Chop the remaining coriander and sprinkle into the potato curry to finish off.
Ladle over the rice & finish with the toasted sesame seeds you started with right at the beginning of the recipe.
Enjoy this mind-blowingly, mouthwatering bowl of textures and hidden delights!