For hammering out indecision
This Sticky Toffee Pudding is Jaw-breakingly good! Packed with sticky dates and smothered in a velvety sauce it will undoubtedly set your teeth on edge, bounce you into sugar rush central, place you back on earth with a sticky smile on your face and hopefully help you hammer out any indecision.
It's blowing a gale outside, and I'm stuck with some turbulent, job related decision making. I've never been a fan of toxic environments, where people tear each other down rather than supporting each other and building something up. I needed something to smash through my indecision, help me put things into perspective and to break the problems down into bite-size pieces. What better than this glorious British favourite to help cut through the crap.
Eating Conditions
Best eaten in your favourite armchair, in front of a windswept window on a cold autumn afternoon. Feet up, phone off, thinking cap firmly in place!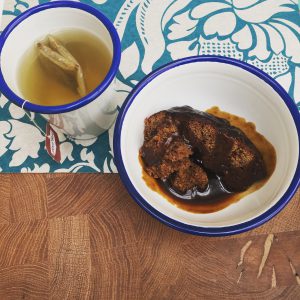 Jaw-breaking Sticky Toffee Pudding
Ingredients
For the pudding
200g fresh pitted dates
90g softened butter
170g dark brown sugar
1 tbsp golden syrup
2 tbsp black treacle
½ tsp vanilla extract
2 large eggs
200g self-raising flour
1 tsp bicarbonate of soda
For the sauce
200ml double cream\80g butter
80g dark soft brown sugar
4 tbsp black treacle
2 tbsp golden syrup
Instructions
Preheat the oven to 200oc and grease 8 x 150ml dariole moulds.
I have also been known to use 2 x large foil take away trays to make loaf style pudding, this is a great option if you want to freeze half!
Place the dates and 300ml water in a pan and bring to the boil
Whisk the butter and sugar until fluffy
Gradually add the syrup, treacle, vanilla extract and the eggs to the mixture
Then add the self-raising flour and mix well until all is combined
Using a blender, puree the date & hot water mix, add the bicarbonate of soda
Quickly add this to the egg and flour mix, stirring to combine
Fill the moulds, bake in the oven for 20-25 mins, if using the foil trays, it will need an extra 7-10 mins - check the top is firm to touch before removing
For the sauce
Place all the ingredients in the pan and bring to the boil
Simmer for 3-4 mins until glossy
Remove the puddings from the moulds/ portion pudding and pour the sauce over the top
Serve with clotted cream, ice cream or eat it just as it comes!
Sugar rush- jaw-breakingly delicious!