Seared Rye Bay scallops served with a kicking cayenne and scallop roe mousse
Every February, without fail the picturesque East Sussex seaside town of Rye hosts a seven-day event know as The Scallop Festival. Focusing on local, Sustainably caught scallops that are said to be some of the best in the country, the festival features cookery schools and restaurants serving up a mouthwatering selection of scallop based recipes and events, culminating on the final day with the hotly contested 'What a Load of Scallops' race with competitors racing barrows of scallops, through the cobbled streets of Rye, to win the coveted wooden scallop plaque…welcome to Rye!
Scallops to it all!
I always struggle to get tables at my favourite places, Rye fills up with a high-tide of tourists that ebb away as the weekend comes to a close. Frustrated with the lack of availability, this year I decided to make my own unique Rye Bay Scallop Dish, and here it is!
These plump scallopy pillows, seared in butter and chilli floating on a kick-ass cayenne pepper & roe mousse are enough to put your head in the clouds, switch off and say scallops to it all!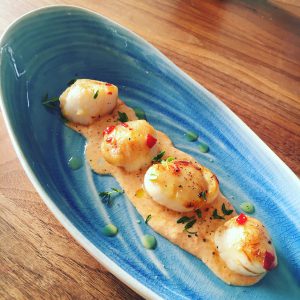 Seared Rye Bay Scallops
Ingredients
8 - 10 scallops with roe attached (Ask for some shells if you want to serve as a starter)
1tbs lemon olive oil
1 tsp fresh lemon juice
80- 100g whipped cream
½ tsp Cayenne pepper
1 thumb of diced chilli (to taste)
Chopped thyme - to taste
Butter
Black pepper
Instructions
For the kicking cayenne & scallop mousse
Remove the roe from the scallops ( you should have approx 200g of roe - hold back on the cream if you have less)
Gently fry the roe in butter
Add the lemon juice, cream and cayenne pepper, stir for 2 minutes (don't let the mix boil)
Remove from the heat and allow to cool
Using a food processor whizz together and then place mousse in a piping bag, chill in the fridge
For the scallops
Clean and dry the scallops really well
Season with salt and pepper
On a red-hot skillet, fry the scallops in butter for approx 2 mins each side (depending on the size)
Tip: Just let them sit and fry in the pan in peace, don't push or roll them around!
Drop in the diced chilli halfway through the frying process, at the end toss all together
Once cooked, remove from the heat and plate up immediately
Take the kicking cayenne & scallop mousse from the fridge and pipe onto plates or into the scallop shells
Rest the scallops on the mousse, season with pepper
Drizzle with lemon olive oil and chopped thyme to taste
Enjoy!