Old Year (as the Dutch call it) New Year as we say in the UK and here we are, however you say it standing firmly on the first day of the calendar in 2017! How did we arrive here?
2016 seems to have steam rolled by bringing with it a wave of crazy world events, the loss of legends both the musical and the talented sort and change. For me 2016 will be remembered as the year of fundamental change – on all fronts. Personal, professional and political.
So, what better way to wave goodbye to the old year than continuing a tradition that started 6 years back in our former home town of Hilversum: Making Dutch Oliebollen, directly translated: Oily Balls! Now I know Oily Balls may not sound like everyone's cup of tea, although I'm sure there will a select few out there that beg to differ (and I'm not talking about the Dutch here…) but trust me, these are the Dutch golden balls of the doughnut world! It involves hot oil, frying deeply and intense enjoyment. A perfect 'must try' before the calorific saint like behaviour kicks in the day after.
Over the years, we have deviated away from the simple oily ball to more enticing concoctions – we've made a competition of it in our house! This year, my son was the firm winner with his Deep fried, Banana & Chocolate filled Ball. Dusted with icing sugar, the crispy edged pillow like dough that oozed with the warm mix of chocolate and banana was just mouth-wateringly memorable!
Close second was the Battered Apple Rings, laced with Golden Syrup – Equally divine! The mix costs next to nothing to make, the fun factor is through the roof and after such a year of tough times and change, it's nice to say Balls, Balls, Balls to it all!
Happy 2017 to each and to all, may it be filled with good food, good friends, happy memories, fun, love and laughter! x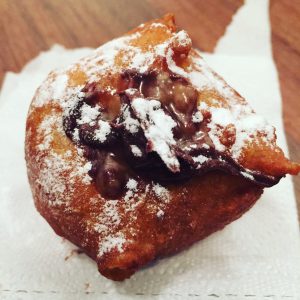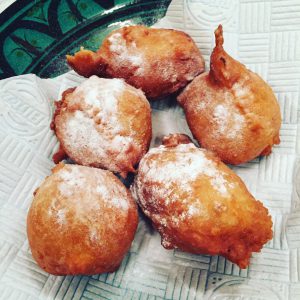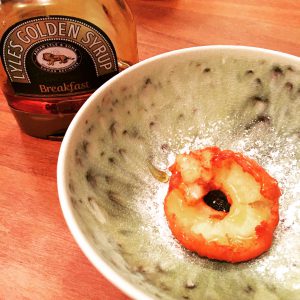 Old Year, New Year: Balls, Balls, Balls!
The Dutch golden balls of the doughnut world! Deep fried Oliebollen (doughnuts) with Banana & Chocolate or Apple and Golden Syrup
Recipe type:
Dutch Sweets & Treats
Ingredients
500g Organic Plain Flour
500ml Warm Organic Milk
9g Dried Yeast
1tsp Salt
1tbsp Sugar
1 Apple
1 Banana
Toppings of choice
Instructions
Dough Mix
Warm the milk up until it was around 40oc (do not boil)
Mix the yeast into the milk.
Add the milk mixture to the flour, add salt and sugar.
Mix with a dough hook for around 2 mins
Place mix in a slightly oiled, stainless bowl, cover with a dark cloth in a warm place for 2 hours+
Heating & Eating
Heat oil in a deep fat fryer to 190oc
Using an ice-cream scoop, scoop out balls of the mix and drop carefully into the oil
Stuff small pieces of banana, apple (whatever) into the formed dough ball prior to frying
Fry for 5 mins, turning carefully with a spoon half way through
Using a metal slotted spoon, remove and place on kitchen roll to remove excess oil
Once they have cooled slightly( the filled ones take a little longer) sprinkle with icing sugar or toppings of your choice.
Enjoy whilst warm, save leftovers in a air tight container - eat for breakfast the next day: Wrong but great for clearing up a fuzzy head!