Today is World Ballet Day and what better way to mark this occasion with a post relating to my very recent trip to watch the Nederlands Dans Theatre performing Stage One
in Rotterdam.
If there was ever something to kick start a focus on my fitness level, it has to be watching contemporary dance. Last Saturday evening I was treated to a mix of movement, light and sound that stimulated all of my senses. Bodies moved with liquid precision. Streams of emotion, sweat and solid fleshy forms morphed before me into new shapes as they told their tale. It was truly memorising and inspirational.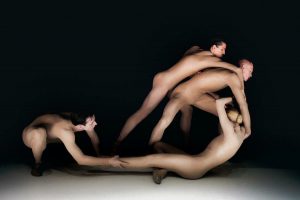 My friend and I left the theatre full of body lust and chatter. Continuing our evening by hitting the damp & drizzly streets of Rotterdam. As seems to be the case with me – I arrive, it rains! Once we'd done the rounds and talked our throats sore we headed back to the Hotel. Why is it, when you arrive back at any given hotel at a small hour in the morning there is always that intense urge to raid the mini bar? As it happened, the more we walked through the mini bar menu (and the accompanying astronomical price tag of each item) we talked ourselves hungry. Moving swiftly on to the room service menu.
The choice was extremely limited, more so when we called and announced at 1.30 am we would like feeding. The 5 options were reduced to 2.
Club Sandwich & Vegetarian Caesar salad it was then.
The equally astronomical room service request, seemed to have caused quite a stir. The front desk got panicky. Food? Room Service at this time of night at those prices? Have they lost their minds? We decided that it 'must' be because most Dutch people would probably come prepared, bring their own food rather than suffer the service charge. We imagined the staff frantically running around trying to rustle something up, we suspected by the delivery that no member of  kitchen staff must have played a hand in our food preparation – it had night porter repertoire written all over it!
The Club was so bad, I'm going to focus only on the Caesar salad: made up with a total of 6 WHOLE cos lettuce heads, huge heady clumps, with no effort made to separate the leaves. It was accompanied by 3 lone croutons, a swath of slab like parmesan shavings and NO dressing! Seriously?!
This is not the type of food that satisfies your small hour, wine induced hungers!
So in honour of World Ballet day and my bad salad memories of that evening, I bring you a salad to shake your lettuce at. This beautiful twist on a traditional Caesar. A middle eastern inspired vegetarian feast using fried halloumi, avocado and a low fat yoghurt & lemon dressing. What every salad wants to be; Healthy, crisp and deliscioulsy satisfying.
Seize this salad and serve with croutons or flatbread!

Seize The Salad
Middle eastern inspired vegetarian feast using fried halloumi, avocado and a low fat yoghurt & lemon dressing
Ingredients
1 Organic Cos Lettuce
1 Organic Avocado
1 small Red Organic Salad Onion
1 Lime
200ml Organic Low Fat Plain Yoghurt
2 tablespoons of Organic Olive Oil
2 tablespoons of squeezed Lemon
½ teaspoon Cayenne Pepper
250g Halloumi
Oil for cooking
Sprinkle of Sumac
Flatbread or Croutons to serve
Salt & Pepper to season
Instructions
Find a Salad bowl and large frying pan
Salad
Chop the Cos lettuce roughly into large chunks
Dice the avocado and add to the salad bowl
Finely slice & chop one red onion into small pieces, soak in lime juice for 10 minutes
Dressing
Mix the organic plain yoghurt, the lemon juice, olive oil and cayenne pepper together.
Slice and drizzle the halloumi cheese lightly with oil to just enough to coat them
Fry the halloumi slices until golden brown on both sides in a non stick pan.
Drain the onions, discarding the lime juice and add to the salad bowl.
Gently toss the salad, and serve on 2 plates.
Place the halloumi on top of the salad and drizzle with the dressing.
Sprinkle a little sumac over the top
Serve immediately with flatbreads or homemade croutons